Solicitors Negligence Claims
Solicitors Negligence Claims
Negligence Claims Against Solicitors & Barristers.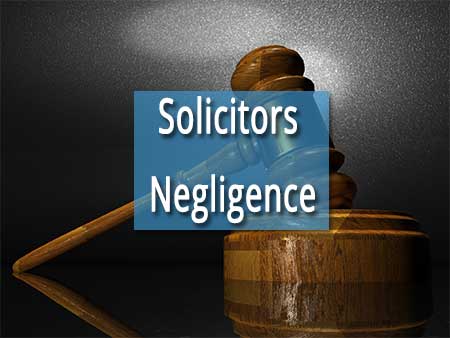 If a solicitor or barrister cannot supply qualified legal advice or cannot make sufficient representation in court procedures and you suffer loss as an outcome, then you might have a claim against that professional for damages.
A legal practitioner has a duty to provide legal services with sensible care and ability. If your solicitor cannot do this, they may be in breach of their responsibility of care to the customer.
The Irish Courts have determined that negligence is a form of unsatisfactory professional conduct or expert misbehaviour just when it goes beyond "mere negligence" or "simple negligence". One example of lawyer negligence might be the providing of wrong legal suggestions which results in monetary loss to the customer.
Michael Monahan Solicitors Sligo can advise you on whether or not you have a case and start proceedings against the negligent solicitor call us now on 071 912 9070 or contact us online.
What type of solicitors negligence claim can we assist you with?
Conveyancing and Property Solicitor Negligence: E.G. where the legal representative does not investigate the legal ownership, planning restrictions or other matters affecting a property sale where they simply don't complete the file and provide certified title to the lending institution (The most common complaint to The Law Society)
Personal Injury Negligence: E.G. where the solicitor advises to settle an insurance claim for less than it is in fact worth or misses a date by which the claim must be lodged.
Litigation Negligence: E.G. where a solicitor or barrister acting for you in court procedures fails to meet a court due date which leads to your case being lost or fails to appoint correct advisors to give evidence for you.
Business Transaction Negligence: E.G. where the lawyer cannot see a clause in a contract or lease which negatively influences you or gives bad recommendations on a case that results in you suffering some loss.
Wills and Probate Negligence: For example, where a solicitor fails to prepare a Will in accordance with the clients instructions, causing loss.
Other areas Solicitors negligence claims areas we can help with are:
Failure to issue proceedings in the time limit allowed
Charging Excessive Legal Fees
Providing Incorrect Advice
Failure to Follow Instructions
Failure to complete a property transaction resulting in financial loss to you the client.
Failure to follow your instructions at settlement meeting and settling a case against your wishes
Unauthorised Investment or Usage of Clients' Cash
Negligent Delays in Lodging Claims
Failing to Keep Clients Informed of the State of Their Affairs
Failing to Keep Proper Accounts and Receipt Books
A Failure by the Solicitor to Sufficiently Supervise an Employee
Fraud or Misappropriation of your settlement monies
Delay in registering ownership and allowing a charge to be placed on your property.
If you have received bad recommendations or poor legal services from your lawyer or barrister and your case is ongoing, we can frequently take control of the case with a view to reducing the effects of the irresponsible service you have actually received up until now.
Because the Law Business in Ireland is comparatively small, it is usually best to engage a lawyer from outside the location where your solicitor resides/practices. Our offices in Sligo make us ideal for perusing solicitors negligence cases against solicitors based in Dublin and other parts of Ireland
If it is not too late (six years )to take over an existing case and you are planning to make a claim against the negligent solicitor for the negligent service you have received, we can help call us now on 071 912 9070 or contact us online.
What is solicitors negligence?
Solicitors negligence is where a lawyer engaged by a client fails to give a proper service required of them with the skill and knowledge fairly expected of a solicitor.
Solicitors negligence has three sections:
1.Is there a duty owed?
2. Is there breach of the duty?
3. Is there damage /loss as a result?
Solicitors negligence compensation claims are complex. In order to win you need to be able to show that another proficient solicitor would not have offered such advice or acted in the same manner.(We get an expert opinion before we start a claim.The Supreme Court has decided no claim should start unless backed up by a professional opinion to protect you as a client from the start. While this is an expense at the very beginning of the case, it does have the benefit of confirming whether you have a good case or not.)
Claims are defended by insurance companies for the solicitor (All solicitors carry insurance for €1.5 m cover)
How much time do I have make a solicitors negligence claim?
The current time-limit for taking proceedings in a solicitors negligence is 6 years from the date that the negligent act occurred.
If I think I have a solicitor negligence claim what should I do?
The first thing is to phone us and discuss without obligation.
Following that if we think you have a case we will ask you to send us a summary email if possible giving the background to what happened and include any relevant paperwork. You sign an authority, which we provide to take over the file and we send that to the firm.
You do not need to contact them.
We get the copy of your file from your solicitor as quickly as possible. We will need the file in order to give a preliminary opinion on your chance of success.
If you think you may have a compensation claim for solicitors negligence contact us now.